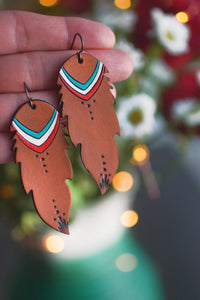 Mesa Dreams
Striped Feathers Leather Earrings
Regular price
$40.00
$0.00
Unit price
per
♥️I love retro stripes and these feather loves totally make my heart sing! Curvy feather silhouettes paired with chevron stripes, oh yeah!

✨ You can now pick between hypoallergenic copper colored niobium ear wires (shown) or bright Sterling silver ear wires👍

Completely handcrafted with love, each pair of earrings is a one of a kind creation and is made from thick European hides that have been cut, shaped, stamped and stained with hand painted details. Even within the same design, no two pair are the exact same due to their completely handmade nature.

✿ This is a Made to Order listing; please allow time for its creation. Just view the Shipping & returns section for view our current production turnaround time! :-)

.............✿ Measurements and Attachments ✿.............

Each leather earring measures 1" wide by about 2.5" long, not including the ear wires.

............................✿ Leather Care ✿...........................

**** Super important info to know****
Leather is a natural skin and is not waterproof.. All my pieces are coated in a water-resistant vanish that will keep it safe from the occasional drop here and there but please, do not immerse in water for any length of time. The leather will absorb water, warp and the stain will wash away - repeated exposure to water eventually rots leather and weakens it to the point it will snap with any pressure.

Just like your leather jacket or shoes, over time you may want to condition the leather and reseal it.. there are many great leather care products on the market, plus you can take it to a shoe repair shop and they will freshen it up for you! Soon I will be offering leather conditioner and varnishes in the shop for at-home upkeep

---